LA SOCIETE DU CROISSANT-ROUGE EGYPTIENS
Fawzia HADGE-DIN
Adresse:
Abd El Razek Al Sanhoury Street
Nasr City, 8th district

7516 Cairo
Nom du contact:
Tél: (202) 26703979/81/83

Fax: (202) 26703967

Adresse électronique: erc@egyptianrc.org

Web: http://www.egyptianrc.org
Personne:
Dr. Yahya TOMOUM
President : Vacant
Vice-President : Mr Minister of Social Affairs
Secretary General : Prof. Mamdouh GABR
Treasurer : Mrs Magda EL SHERBINY
Director General : Dr. Magda EL SHERBINY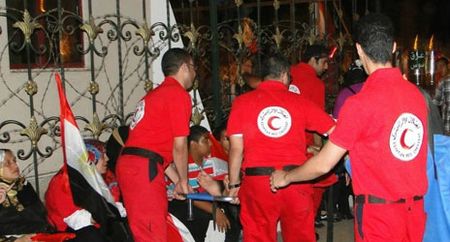 Emergency Action Teams assisting the injured during new wave of protests
Egyptian Red Crescent Society's Emergency Action teams provide first aid services to the injured in Rab'a Aladaweya Square in Cairo.
Raefah Makki
Violent clashes in Egypt are once more being reported. Casualties are rising and hundreds of Egyptians affected by the violence need assistance. With the escalation of tension in recent weeks, the Egyptian Red Crescent Society responded to the humanitarian needs that mass demonstrations often create and immediately deployed emergency teams to help those injured and wounded on the streets of Cairo and other provinces.
Two years ago, volunteers of the Red Crescent were active in the streets and squares of Egypt during the uprising, establishing mobile health points and first aid posts to provide emergency services.
Today, with tensions growing once more, 849 volunteers in 35 sites of demonstrations across 11 governorates have been deployed to offer medical assistance, evacuate critical cases and to provide urgent medical supplies to the field hospitals in sites of the demonstrations.
Some branches provided other services and initiatives in response to the situation in their governorates during demonstrations. Volunteers have offered psychosocial support in hospitals and helped to organize and promote blood donation campaigns.
At these difficult times, the Egyptian Red Crescent Society has also increased its efforts to talk about peace and nonviolence through awareness raising sessions and the dissemination of posters in the main squares of the governorates calling upon the protestors to act peacefully during demonstrations.
"Positive interventions were taken on many different levels reflecting the strength and the true commitment of our volunteers and for the organization to act as auxiliary to the public authorities in the humanitarian field, especially during emergencies," said Professor Mamdouh Gabr, Secretary General of the Egyptian Red Crescent Society.
"Our volunteers have been trained to cope with all emergencies, they are working tirelessly amidst very complex context and difficult security conditions to help their communities with full impartiality and neutrality," he said.
In light of the current situation, the International Federation of Red Cross and Red Crescent Societies and the International Committee of Red Cross are committed to continue to enhance the capacities of Egyptian Red Crescent Society to enable the organization to provide vital humanitarian services.
As the situation progresses, the Red Crescent will monitor events across the country to ensure assistance can be delivered as it is needed.